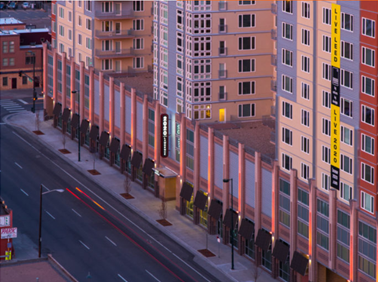 A combination of split face and ground face concrete block, supplied by Basalite Concrete Products, is helping Denver's 2020 Lawrence stand up to the rigors of its urban environment— providing an upscale aesthetic and setting an example for sustainable residential redevelopment throughout the region and the country.
The carefully chosen colors and textures of the concrete masonry help frame the 12-story urban highrise against its downtown environment and the surrounding Rocky Mountains. Exquisite architecture, mixed with thoughtful, contextual design helped win the community a Mayor's Design Award in 2013. It's continued good looks are a testimony to the durability and versatility of concrete masonry.
"I was trying to achieve an art deco style in the building," said architect John Gagnon of JG Architects Inc. The use of stucco was just not going to be an option. We needed a material that was durable and good looking— because the neighborhood was fairly rough at the time we built. Brick was not right because the units were too small. So we went with block. Alternating between split face and ground face allowed us to play with different textures and colors and allowed us to get the look we wanted."
While the building's main structural support is provided by pre-stressed concrete, there are also some load-bearing block walls on the interior. Exposed ground face block can be seen on the interior in the complex's fitness center.
The block went up smoothly, according to Gagnon. "It actually went really, really well because the general contractor stepped up to the plate and selected a good masonry contractor, Gallegos Masonry. It went really smoothly and they did a really nice job."
READ MORE