SCMA Concrete Masonry Academy
Southeast Concrete Masonry Association (SCMA) has created a Concrete Masonry Academy designed to provide monthly education webinars on a variety of topics for all industry professionals at no cost.
Simplifying Masonry Series
The New Simplifying Masonry Series is designed to provide the professional community as well as the concrete masonry community a more in-depth education of the various elements of concrete masonry. Please note that the webinars are indicated below if they are AIA-registered and a certificate of attendance will be provided upon request.
SCMA Events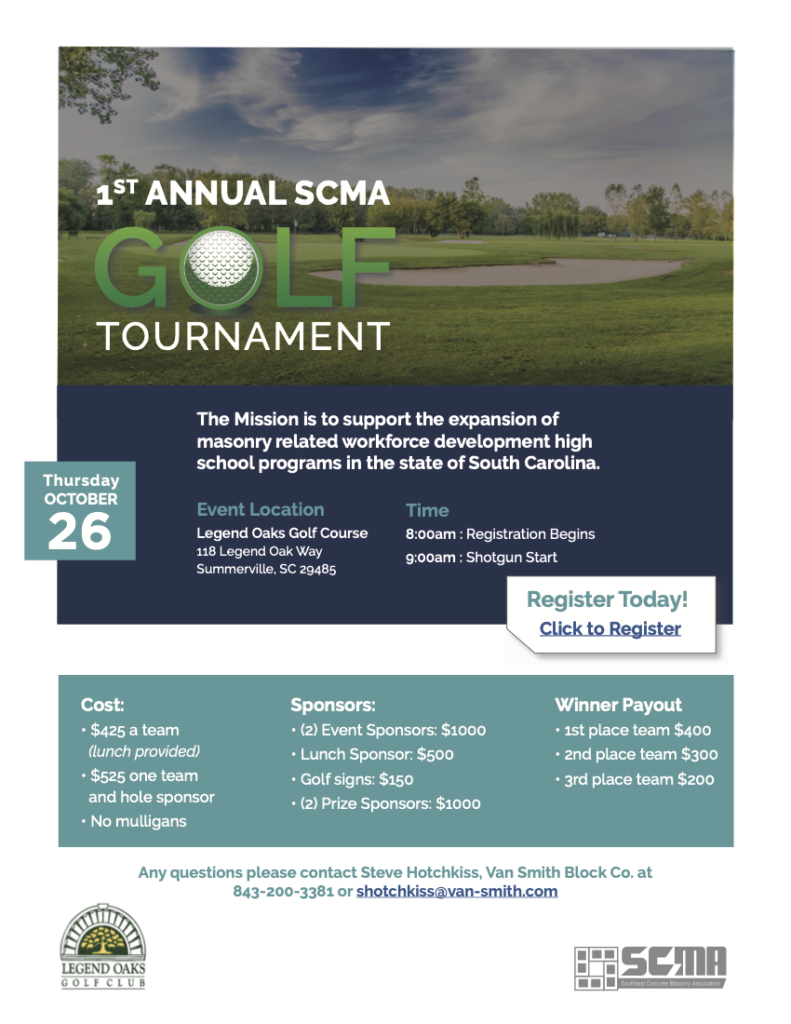 Professional Audience Track
---
Member Webinars
Examining the Environmental Impacts of Masonry (1 AIA LU/HSW)
Date: Wed. October 25, 2023
Time: 11:00 am – 12:00 pm ET
Featured Speaker: Christine 'Tina' Subasic, PE, LEED, AP, FTMS
Course Description
This seminar addresses the various environmental impacts of masonry construction. Resilient building design will be defined and discussed as well as how it differs from green building design. Examples of buildings resilient to natural hazards will be provided. Environmental product selection information will be reviewed. The embodied carbon of concrete masonry will be examined along with suggestions to reduce the carbon footprint.
Learning Objectives
1. Explain the various ways buildings can impact the environment
2. Explain the concept of resilient building design and how it relates to sustainability and environmental impacts
3. Describe the inherent attributes and advantages of masonry construction for resilient design that lessen impacts on the environment
4. Evaluate the use of EPDs and LCA analysis in the building product selection process
5. Understand the basics of embodied carbon of masonry construction
Presenter's Bio
Christine 'Tina" Subasic, PE, LEED AP is a consulting architectural engineer specializing in masonry and sustainable design based in Raleigh, NC. Ms. Subasic has provided technical support services, including standards development, educational seminars, and inspection services in the masonry industry for over 25 years. A frequent speaker on masonry and sustainability, she has addressed audiences in over 20 states. She is active in The Masonry Society where she served as the first female President. She has been a member of the TMS 402 Code Committee for over 15 years and has co-authored the veneer chapter in the TMS Masonry Designers' Guide. Subasic also serves on ASTM Committees C15 on Manufactured Masonry Units, C12 on Mortar, and Committee E60 on Sustainability. She is editor of The Masonry Society's Sustainability E-Newsletter, and has written numerous articles and publications for STRUCTURE and Masonry Construction magazines and other industry associations. She is the author of the book "Six-Minute Solutions for Structural Engineering (SE) Exam Morning Breadth Problems."
---
Industry Partner Webinars
Check back later for upcoming webinars from The Masonry Society.
---
---
NCMA Podcast: Just* Mason Around
Looking for more educational opportunities? Check out the Education Section: Education – NCMA