When nature gives you its worst, fight back with its best.
Concrete masonry – consisting of water, aggregate and cement – is a builder's best bet to protect human life inside the structure. Block doesn't rot, warp or grow mold, and it stands up remarkably well to even the most extreme weather. Even with a lifespan of up to 100 years, you can be sure the building's structural integrity isn't compromised over the years like it can be with wood.
Concrete structures make it easy to sleep at night – even stormy ones – because you know your family or tenants have block on their side. Not only does it make sense to use concrete masonry, it can also make cents – lots of them. Many insurance policies offer discounts on block structures due to their resistant properties, saving you money that helps the material pay for itself over time.
When lives are on the line, concrete masonry is there for you.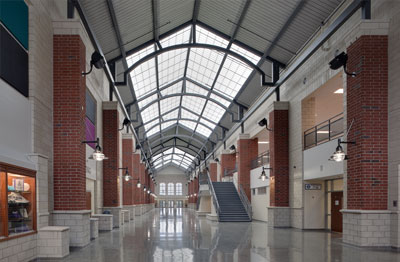 Termite & Pest Resistant
Insects can't eat block, meaning they're unable to damage your structure. This also reduces extermination costs. Concrete does not provide a feeding ground for pests and termites, reducing the chances they will invade your home.
Fire Resistant
Block structures won't go up in flames like many other materials. Because of this resistance, many insurers offer significant discounts on concrete masonry buildings. Read fire study.
Mold Resistant
Moisture and other elements that promote mold growth aren't sustainable in the interior of masonry structures, saving you problems and money down the road.

Rot Resistant
Over time, wood rot weakens your structure and is costly to repair. Block masonry will not rot, completely avoiding these costs and aggravation.
Weather Resistant
Block is unaffected by extreme weather conditions such as heavy rain, snow, and hail – ensuring the safety of your structure, its contents and most importantly, the people inside.

Long-lasting
Concrete masonry structures can last up to 100 years. During that same time period, wood can deteriorate and leave your structure weak and vulnerable. Concrete masonry structures are designed to exceed the required strength for the design strength load.