Local Fires in Structures Under Construction
Deadly fires in structures under construction happen close to home more often than you think. Recently, a wooden apartment complex structure that was under construction caught fire in Charlotte, NC. The fire left 15 people trapped inside the structure, and two construction workers died at the scene.
In 2017, another wooded apartment complex structure was under construction and resulted in the largest fire in over a century in Raleigh, NC. The fire was unable to be contained and forced hundreds to evacuate their homes, damaged 10+ buildings and injured several people.
In 2020, a massive fire broke out at a construction site in Savannah, GA. Luckily no one was injured, but there was a massive loss of infrastructure due to the materials used.
It Happens More Often Than You Think: Fires Under Construction Statistics
From 2016 to 2020, local fire departments and emergency professionals across the nation responded to an estimated annual average of 4,300 fires in structures that were currently under construction. Yearly, these raging fires cause approximately $376 million in property damages.
The fires in structures under construction are reported to be smaller, more controlled fires. As shown in a report done by the National Fire Protection Association, roughly one-half of the fires were confined and contained. The presence of workers at the construction sites who can detect and quickly extinguish these fires before they get the opportunity to spread could explain why many of these structure fires stay relatively small.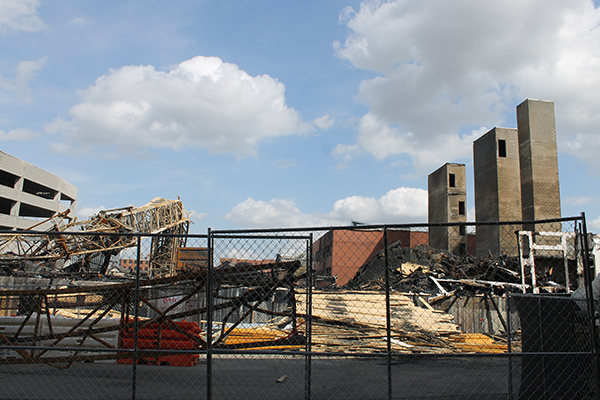 Leading Causes of Fire in Structures Under Construction
Residential properties make up for approximately 76% of the fires in structures that are under construction, as well as make up for the largest share of injuries, deaths, and property damage; followed by business and mercantile properties.
See the table for leading causes of fires on construction sites.
Conclusion
The estimated number of fires in structures under construction has increased since 2014 after a decline between the years of 2008 and 2010. On average, firefighters responded to nearly 12 structure fires under construction every day between the years 2016 and 2020. Fires at such construction sites are a continual issue, but their leading causes are generally well-established, which is a good indication that they can be prevented through greater attention to these fire hazards.
So how can we help prevent this? Recently, owners and developers have been searching for alternative materials to build structures with and have begun exploring the advantages of using concrete masonry wall systems as opposed to standard wood frames to reduce the loss of life and property. The inherent value of Concrete Masonry NOT burning provides an extra layer of safety to all structures and gives owners and developers piece of mine. In the unfortunate event of a construction fire, Concrete Masonry Wall Systems can help reduce cleanup cost and keep flames controlled so they don't spread and cause more damage.
Read Full Report