Each year, families and businesses along America's Atlantic coast brace for hurricane season. Between June 1 and November 30, conditions are right for generating these destructive storms— and as we've seen with storms like Andrew (1992) and Katrina (2005), the results can be devastating.
The National Hurricane Center reports that storm surge is the greatest threat to life and property for people living on the coast.
Over 40% of hurricanes hit Florida and the southeastern United States with winds exceeding 160 miles per hour.
Even cities 300 miles inland can be affected by flooding—inland flooding accounts for more than 50% of hurricane-related deaths annually.
If your organization is vulnerable to hurricanes, it is important to understand your risk. From there, you can develop a preparedness and mitigation plan to protect your employees and customers. A plan doesn't just promote safety. It may help you maintain operations after a disaster and contribute to your community's ability to recover.
The SCMA is an advocate of Federal Alliance for Safe Homes (FLASH®). FLASH is the country's leading consumer advocate for strengthening homes and safeguarding families from disasters. With so many different options in the marketplace today, finding safety resources can be overwhelming. To help, we've compiled a list of resources that will keep your business and family safe during hurricane season.  
Business Owners
There are several resources that may be helpful to business owners to mitigate the damage caused by a possible hurricane. If you run a brick-and-mortar business, it's important to know what construction materials were used to build your location. Lumber is often the material of choice for its versatility and affordability. However, in the case of extreme weather conditions, it's neither durable nor safe. Concrete block is made of water, aggregate and cement. It's the safest building material on the market and the best bet to protect human life inside. We recommend completing the Ready Business Program Hurricane Toolkit to asses your risk, develop a plan and take action.

Homeowners
#HurricaneStrong is part of the national hurricane resilience initiative to save lives and homes through collaboration with leading organizations in the disaster safety and resilience movement. The collaboration offers empowering hurricane safety and mitigation information for families and practitioners alike through business summits, digital channels, home improvement store workshops, kids programming, media outreach, school lesson plans, special events, and a social media campaign featuring a #HurricaneStrong "Pose."
The Hurricane Family Preparedness Guide is a great resource to keeping you families safe.
Protect with Concrete Masonry
Choosing concrete masonry is one of the best investments you can make toward the safety and resilience of your home or business in the event of a hurricane. Concrete masonry units can withstand up to 250 MPH winds, giving you life-saving shelter during a natural disaster. The benefits of concrete masonry don't stop at safety. It's also rot, mold, pest, and fire resistant, offering you safety on multiple fronts. Because of its superior reliability, you'll also save money on insurance premiums and sustain less storm damage that will require repair.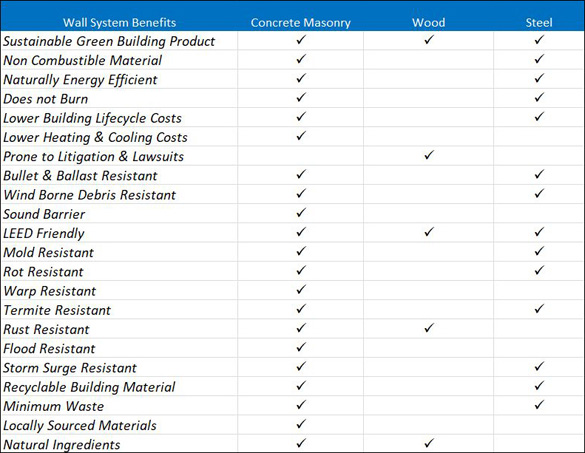 Other Resources
The nonprofit Federal Alliance for Safe Homes (FLASH®) is the country's leading consumer advocate for strengthening homes and safeguarding families from natural and manmade disasters.
The BlockStrong Stormtracker allows you chart the path of weather events in real time, giving you opportunity to make timely, live-saving decisions when it matters.
Still on the fence about concrete block? Watch this video that demonstrates why CMUs are a safe choice for your family and business.
Be prepared for hurricane season for yourself, your family, and your business. Visit BlockStrong for more information on the safety benefits of concrete masonry.